FEATURED STORY
Wild Bill's Soda: Mix It Up with These Irresistible Soda Cocktail Recipes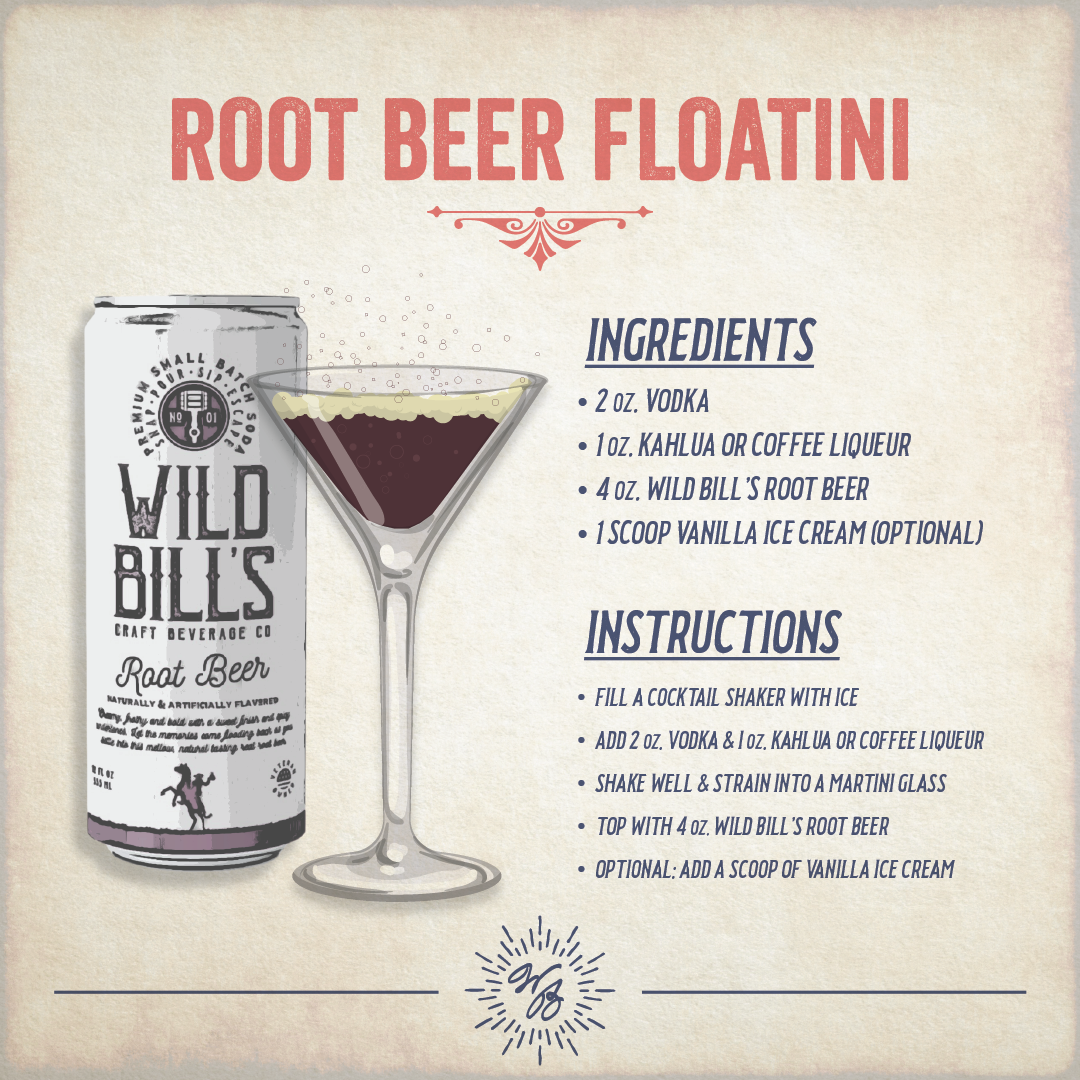 Welcome, soda aficionados and cocktail enthusiasts, to the wild world of Wild Bill's Soda! We believe that great beverages are meant to be enjoyed in countless ways, and that includes crafting unique and delicious soda cocktails that'll dazzle your taste buds. Get ready to shake, stir, and sip your way through some of the most creative and mouthwatering concoctions you've ever tried.

Let's dive into our top Wild Bill's Soda cocktail recipes, complete with highlights and suggested product links:

1. Root Beer Floatini
Highlight: This delightful cocktail captures the essence of a classic root beer float with a grown-up twist. Creamy vanilla ice cream meets the rich flavors of Wild Bill's Root Beer, complemented by the warmth of vodka and coffee liqueur.

[Wild Bill's Root Beer]

2. Creamsicle Fizz
Highlight: Transport yourself back to childhood with the Creamsicle Fizz. It combines zesty orange vodka and triple sec with the smoothness of Wild Bill's Orange Cream, all topped with a touch of heavy cream for that signature creamsicle flavor.

[Wild Bill's Orange Cream]

3. Vanilla Cream White Russian


Highlight: This twist on a classic cocktail introduces Wild Bill's Vanilla Cream to the mix, creating a luscious Vanilla Cream White Russian. Vodka, coffee liqueur, and the velvety notes of vanilla make for a delightful sip.

[Wild Bill's Vanilla Cream]

4. Black Cherry Bourbon Smash

Highlight: The Black Cherry Bourbon Smash is a refreshing bourbon-based cocktail featuring Wild Bill's Black Cherry soda, simple syrup, and a splash of lemon juice. It's the perfect balance of sweet and tart.

*Product Links:* [Wild Bill's Black Cherry](link)

**5. Birch Beer Highball**


Highlight: The Birch Beer Highball is a spirited concoction that combines rye whiskey with the unique flavor of Wild Bill's Birch Beer and a dash of aromatic bitters. It's a twist on a classic highball that's sure to impress.

[Wild Bill's Birch Beer]

6. Sarsaparilla Whiskey Sour
Highlight: Experience the tangy-sweet delight of a Sarsaparilla Whiskey Sour. Bourbon, lemon juice, and simple syrup are perfectly balanced by the complexity of Wild Bill's Sarsaparilla.

[Wild Bill's Sarsaparilla]

7. Classic Rum & Cola
Highlight: Sometimes, classics are classics for a reason. The Classic Rum & Cola combines dark rum with the timeless appeal of Wild Bill's Original Cola. A squeeze of lime adds the perfect zing.

[Wild Bill's Original Cola]

8. Ginger Ale Moscow Mule
Highlight: The Ginger Ale Moscow Mule is a delightful twist on a beloved classic. Vodka, lime juice, and Wild Bill's Ginger Ale create a refreshing and zesty experience.

[Wild Bill's Ginger Ale]

9. Strawberry Cream Daiquiri
Highlight: For a taste of summer, try the Strawberry Cream Daiquiri. Light rum, lime juice, and Wild Bill's Strawberry Cream make for a luscious and refreshing treat.

[Wild Bill's Strawberry Cream]

Now that you have your recipe arsenal ready, it's time to shake, stir, and savor these Wild Bill's Soda cocktails. Get creative, have fun, and don't forget to share your mixology adventures with us! Cheers to wild flavors and unforgettable sips!